Internal doors are a bespoke specialty at Timeless Sash Windows in Trim.
In this post we will show you two styles:
Sliding Pocket Doors
Bi-fold Doors
Sliding Pocket Doors
Internal doors create privacy and section off areas of your home. In addition they are elegant features, especially when designed thoughtfully.
In this case, project manager Conor Callaghan advised the client to use a special 'edge pull' latch on the pocket doors. This allows the doors to recess completely into the door frame, creating the illusion of a totally open space. Yet when the client would like to close off areas into rooms, it is simple to slide the doors closed. Then when the doors are closed, the panelling is matched to the room to appear like the walls.
To view a sample edge pull latch, click here.
These were painted dual colour, to disappear completely into the background. In this case, the study is painted blue and the kitchen side of the door is Farrow and Ball Strong White.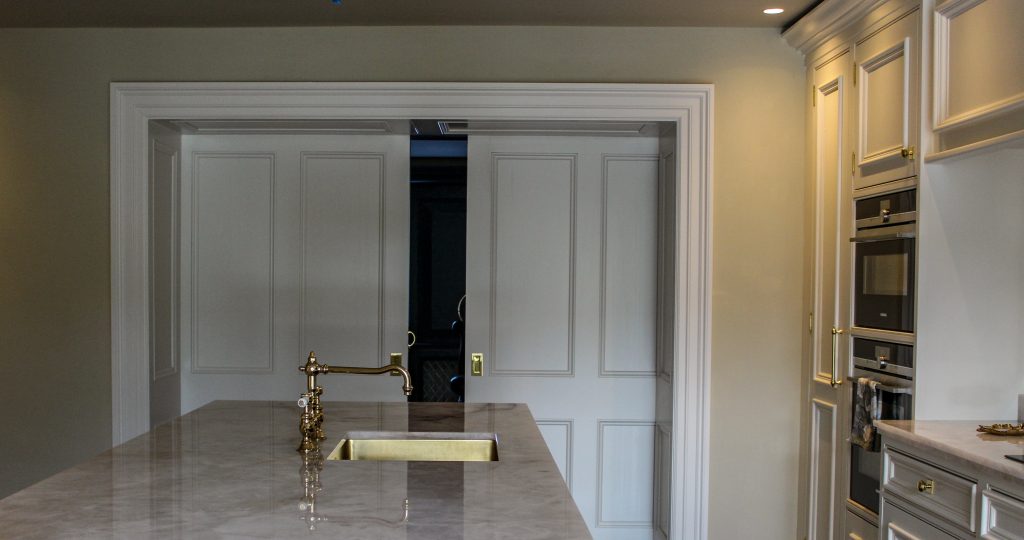 Timber Bi-Fold Doors
Bi-fold doors are an elegant door that can be used either internally or externally. They concertina into themselves, thus providing a large opening and sense of spaciousness.
These doors are fitted on runners that allow them to slide and fold at the same time. This means that the doors take up a lot less space than more traditional French doors in an opening. Furthermore, they allow you to put doors where it might otherwise not be possible.
Timeless Sash Windows craft timber bi-fold doors that are bespoke, designed for each specific home. We don't keep a selection of designs in stock, but rather design to order. This gives you the maximum flexibility with your own unique property.
Our project managers will measure the opening in your existing home or from building plans. The design and style of the finished door is up to you, whether you would like more or less glazing, paneling or timber sections. You will also choose the ironmongery and paint colours.
Read more about your ironmongery choices here.
Take a closer look at these images of recently manufactured and fitted timber bi-fold doors for a client in Dublin.
Timber bi-fold doors
Published 7th June 2019
Words and Pictures by Jennie Ritchie, Timeless Sash Windows.