What are Georgian windows?
Georgian windows are a feature of 18th century architecture. As such, they are often seen through Dublin city and the great houses in the Irish countryside which were built in this era. Furthermore, they are instantly recognisable particularly because of their proportions. Typically they have very fine glazing bars and feature 6 glazing panes per sash.
Georgian window proportions
These windows were designed according to the proportions of the Golden Ratio. This dictated the relationship between the width and the height of the window. Furthermore, the panes of glass also reflect this ratio of 1:1.6. As such, there is a very harmonious quality to the design that our brains love to see!
Mouldings in Georgian windows
The common mouldings that appear in 18th century windows are:
Ovolo and Lambstongue.
Conservation of Georgian windows
The conservation and heritage of buildings throughout Ireland are of great value to our history. Importantly, the Irish Georgian Society, of which we are proud members, says this:
"The IGS is to the forefront in supporting the preservation of Ireland's built heritage through building conservation projects, campaigning on planning issues, and maintaining an online register of professionals and craftsmen who specialise in historic buildings."
Read more here: The Irish Georgian Society
Images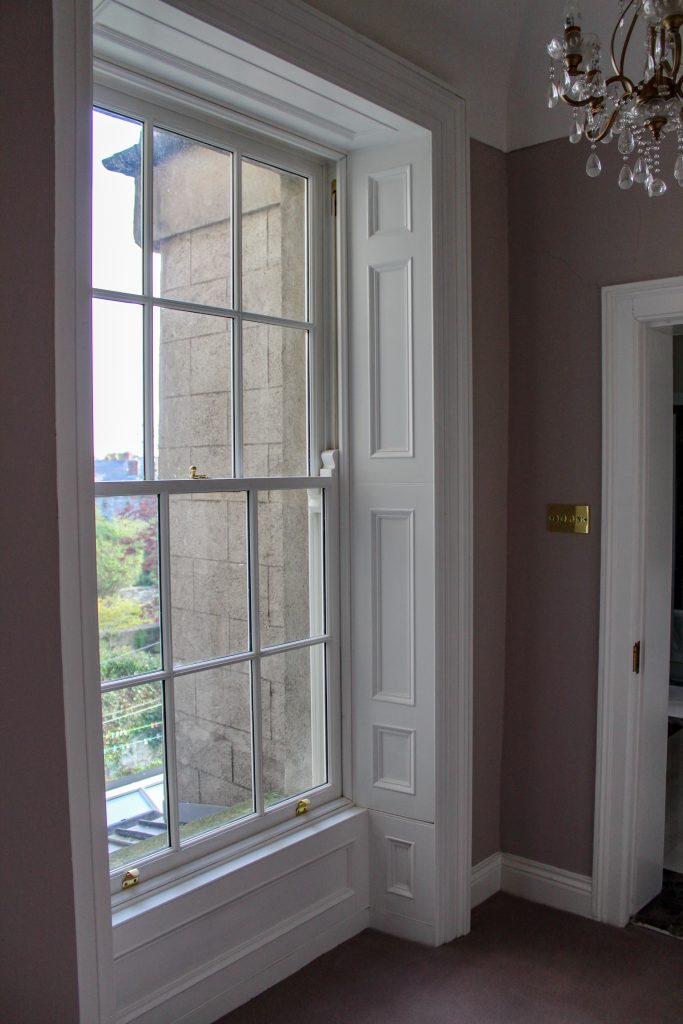 Home design and Georgian windows
In the design of a house, the windows should take centre stage. Firstly they are visible from the inside and the outside of the home and will dictate the quality of living inside. Furthermore, the windows affect the thermal efficiency of the property. They work in conjunction with the insulation in the walls, roof and hot water system, to keep the cold out and the warmth and light in.
Quotes
The following are some examples where the owners have placed importance on the windows in the design of their home:
"We talked about the windows much more than we expected, sliding, casement, how many glazing bars, we didn't believe how much we could discuss it," says Kate. "Do they blend with the style? We had a long debate about double glazing versus triple but the benefit of triple wasn't much more in terms of insulation and we saved quite a bit by going double." say Lorcan and Kate Hogan to Self Build website.
Read more here: Built around the Kitchen
"It might be a new build Georgian home but we wanted it to have all the classic features that a period home possesses and authentic timber sash windows were one of the most obvious ways to achieve that. We absolutely adore them and the character that they add to each room. If you give a home the right canvas the rest will follow naturally." says Laura of The Irish Country Home.
Read more here: The Irish Country Home
In conclusion, Georgian windows feature as well in a new build home as they did in the 18th century. 
Published 26th June 2019
Words and pictures by Jennifer Ritchie, Timeless Sash Windows