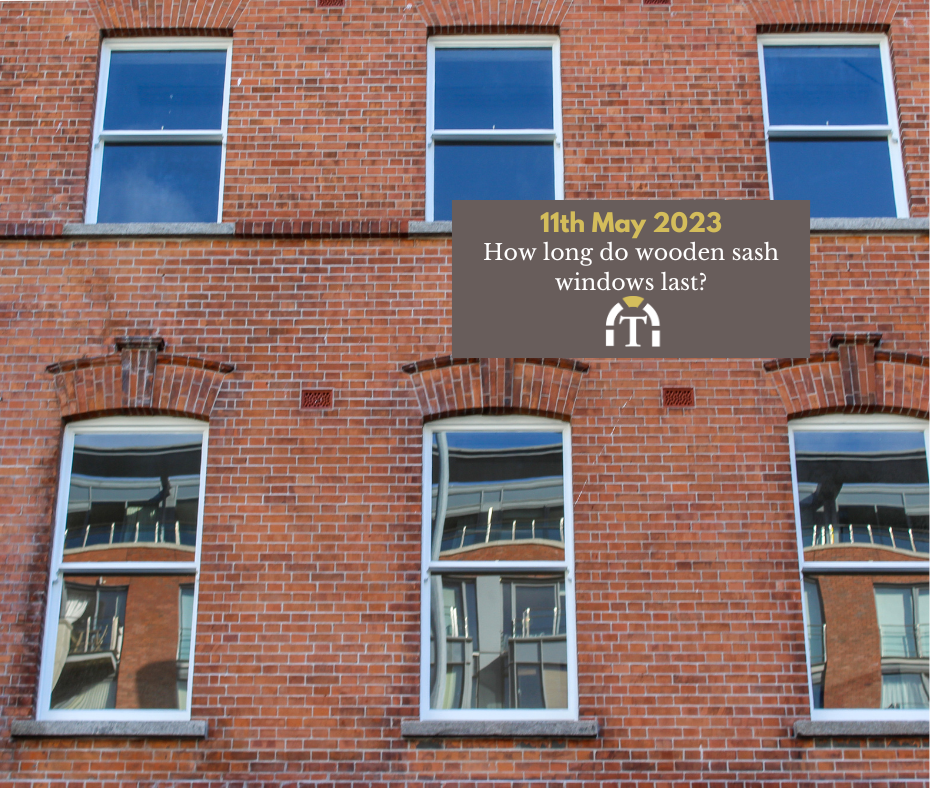 How long do wooden sash windows last?
11/05/2023
Gothic Windows
29/05/2023
The Sash Window
What are sash windows and why did they become….. and remain…… so popular?
It is unclear exactly where they came from, but the term 'sash' is thought to come from the French word "chassis" which means frame.
They moved from the continent to the UK with the fashion for classical architecture and the Irish followed suit.
By the 1730s, sash windows were widespread across Ireland and the UK.
In fact, they are so suitable to our climate that they have been in use here for more than 250 years now,, and are still being fitted into new traditional design houses.
What is a Sash Window?
The sash is the frame that holds the glazing. In a sash window, there are 2 sashes which slide vertically (normally) or horizontally (oacssionally) in a box frame. The frame is receessed into the walls.
Double-hung sash windows have both sashes operational. These are in contrast to single hung sash windows which incorporate one fixed sash and one moving.
To enable the sliding, there is a system of pulley, cord and weights or a spring mechanism.
Although sash windows can be made of various materials., tImber is historically the main construction material.
Why is the Sash Window so popular?
They let in lots of light due to the large glazed area.
They have increased strength due to the design of the timber frame.
Occupiers have increased control over ventilation, without letting in the weather.
The windows have better water tightness than earlier designs.
The clever design lends itself to efficient maintenance and repair.
Types of Sash Window
There are different types of sash window:
Yorkshire sash – this slides horizontally instead of vertically. As such, it does not require the pulley or spring mechanism.
Wyatt window or tripartite – this has a  timber mullion separating a normal portion sash with two narrow sidelights.
Bay window – a bay window is generally 3 flat windows with a central picture window and 2 side windows.
Bow window – a bow window is a series of 5 or 7 windows where both the glazing and timber are curved.
Timeless Sash Windows are a timber joinery with more than 45 years of expertise as master craftspeople in the manufacture and refurbishment of sash windows.
We are proud to be  recognised as members of the Irish Georgian Society (IGS), National Guild of Master Craftsmen (NGMC), Society for the Protection of Ancient Buildings (SPAB) and the Irish Wood and Interiors Network (IWIN) as well as Heritage Contractors with the Construction Industry Federation (CIF).
We have worked on a number of award winning projects:
Ormiston House, Belfast – Heritage Angel Awards, Best Major Regeneration of an Historic Building or Place over £1million 2018
3 Henrietta Street – Irish Georgian Society, Architectural Conservation Award 2019
Riverstown House – Irish Georgian Society, Architectural Conservation Award 2022
16 St. Stephens Green – Irish Construction Exellence Awards, Best FitOut or Refurbishment €5m to €30m.
Published by Timeless Sash Windows, 19th May 2023