Preserving the Elegance of Your Windows with Secondary Glazing Ireland
19/10/2023
Timeless Sash Windows at the Irish Construction Industry Awards
24/11/2023
This article will explain the different types of windows that we see in Ireland with a focus on traditional timber windows.
Ireland's rich and diverse cultural and political history can be seen in the architectural evolution over time, from the early arrow slits in Norman Castles, to modern day multi storey buildings with floor to ceiling glass windows.
What types of windows are there?
There are different types of windows suited to the use of the building, the preferences of the architect, the fashions of the time, and the price of the units.
This is one of the most iconic types of windows seen across Ireland.  They are commonly found in Georgian and Victorian era buildings dating back to the 1700s. However, the style is so popular that many newly-built, modern homes are currently designed with sliding sash windows, due to their timeless elegance.
These are hinged on one side and can open either outwards or inwards. Casement windows without a central mullion are known as 'French casement' windows.
Hopper windows are casement windows that are hinged at the top or bottom and open horizontally as opposed to vertically.
A bay window is generally 3 flat windows with a central picture window and 2 side windows.
A bow window is a series of 5 or 7 windows where both the glazing and timber are curved. The uneven number of windows ensures that the central focal point of the window is open to the best view.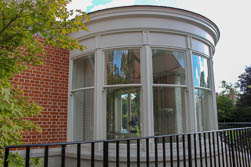 Wyatt window / Tripartite
This is quite a common window from the 1780s onwards. If the opening is wide, you can't have a single window as it would be too heavy, so they put in a tripartite – a sash window with narrower sidelights. This style was made popular by the Wyatt family of Architects during the eighteenth century, hence also being known as a Wyatt window.
These are so called as they have a narrow pane around the edge, usually, but not always red, and with sunbursts in the corner.
Casement windows are hinged, opening inwards or outwards (if side hung). French windows have a floating mullion and can open fully. Otherwise standard casements have a fixed mullion in the centre.