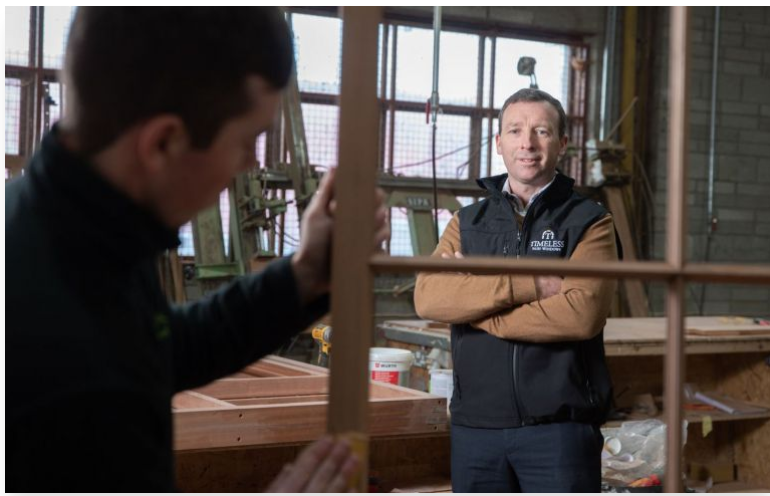 In the news – Sunday Business Post
02/01/2020
Victorian Sash Windows
17/01/2020
Good news! The reason that you are here is that you have great taste in windows. Double glazed sash windows are stunning to look at from the interior and exterior as well as performing well.
Sash windows themselves, are eponymous with elegant home design. Furthermore, to achieve the best thermal efficiency in today's world, double glazing is the ideal solution.
Timeless Sash Windows offer a bespoke window, ideally suited to period properties and heritage homes.
Thermal Efficiency
Modern double glazed sash windows with draught seals from our joinery achieve a U-value of approximately 1.4. Moreover, they come with a class 4 air tightness certification – which is the highest available. Our windows have been independently tested in the UK to ensure these standards.
We sometimes get asked about triple glazing but the weight of the sashes due to the glazing does not have an equatable increase in efficiency.
Timber Frames
Our windows are all made from timber to achieve the best custom designs on the market. Our team can match any original mouldings or guide you through your own bespoke design.
The advantages of timber include natural thermal efficiency, fully customisable, slim profiles and long lifespan. Although you will need to re-paint your windows periodically, modern advancements in paint and timber ensure that it is kept to a minimum of every 7-10 years. All windows should be wiped clean annually to remove insects and growth that, if left to build up, can eventually lead to a decline in the window.
Slim Glazing
We work with an award winning manufacturer of slim double glazing units to achieve narrow profiles – double glazing that looks like single glazing.
Additionally, we have received an Architects Choice Award for our Slim-Glaze System, whereby we can use double glazing in sash windows with glazing bars as slim as 16mm. The result is a highly refined looking window with tremendous thermal efficiency.
For more information and to arrange a visit at our showrooms, call 046-9023323 or email us at [email protected].
Published on 8th January 2020.
Jennie Ritchie, Timeless Sash Windows.