Timber Sash Windows – U values
12/04/2019
Making Sash Windows at the Timeless Joinery
18/04/2019
The homeowners of this Dublin 6 property have cleverly incorporated a neat and bright extension to their classical Georgian terraced home. Timeless Sash Windows were delighted to have been the window and door craftspeople on this interesting and beautifully finished project that involved the collaboration with a number of other building contractors to ensure the best delivery.
This project included the refurbishment of original sash windows, new sliding pocket doors, new sash windows and French doors in the extension, a panelled side entrance door, a rooflight and bi-fold interior doors. Each was thoughtfully designed to highest specifications. Have a look here:
Refurbished original sash windows and shutters
These are mahogany windows painted RAL 9001 cream white with brass fixtures.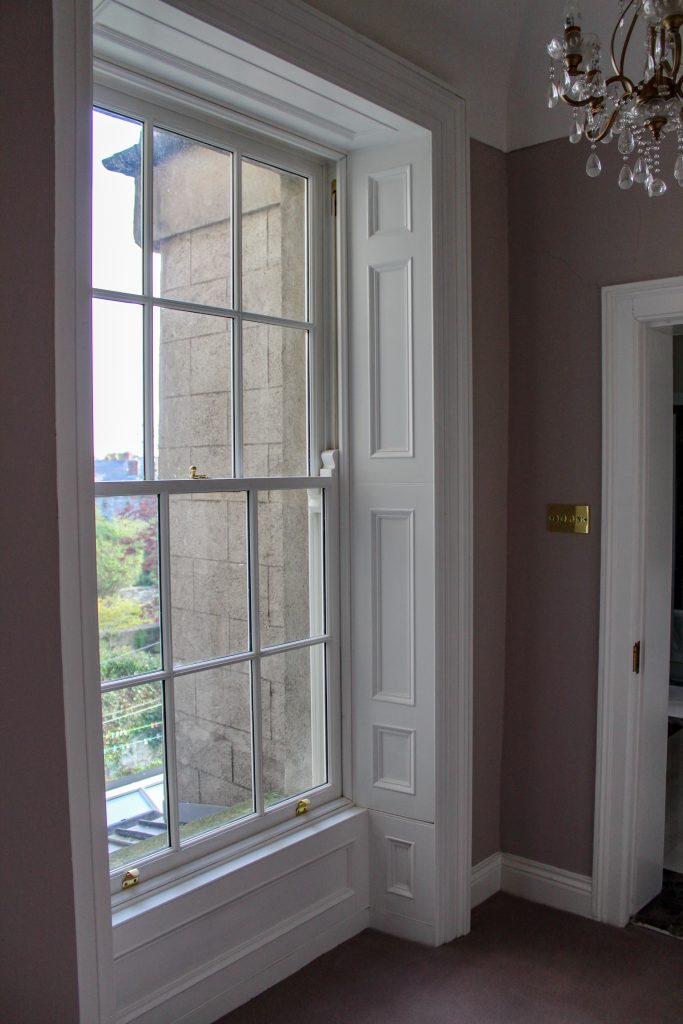 One of our project managers showed previously completed rooflights to the owner of this property so she could visulaise the design specifics that she was looking for in the extension to her home. The glass is tughened in both panes for safety and security and is made up in a 4/16/4 configuration with warm edge spacer bar for maximum thermal efficiency and perfectly suitable for the Irish climate.
The rooflight measures 5.08m x 2.38m and is a stunning feature in this now brightly lit room. The paint colour is Farrow & Ball strong white.
The design of these French doors opening out to the garden is detailed and intricate. The glazing features beveled glass in a 4/4/4 composition. The ironmongery is brass and the doors are hinged with 4″ butt hinges.
Panelled side entrance door
This beautiful mahogany door features beveled toughened glass in a 4/4/6 configuration for security and thermal efficiency combined with timeless elegance. The paint colour is RAL 9001 and the ironmongery that the client chose is all brass.
The project manager for this site had a clever solution for these pocket doors: quite often sliding doors don't recess completely into the frame as it would be difficult to open them again, with the latches concealed into the frame itself. Instead, the ironmongery catches that we fitted to this pocket door, double into handles so the door can slide all the way into the wall giving the maximum opening.
These interior bi-fold doors are a feature to close the kitchen off from the rest of the house. The glass is a single pane as thermal efficiency is not a requirement, however it is toughened glass for building regulations. The lovely warm paint colour chosen is Farrow and Ball Strong White.
Published 17th April 2019.
Jennie Ritchie.